Ugly's Goes Digital for iOS and Android Devices
Now an app, Ugly's delivers the dependable, comprehensive, and easy-to-use information you rely on in a way that will serve you even better in the field today. Featuring over a dozen calculators and interactive features, built-in 2017 Ugly's Electrical References ebook, and video tutorials, you'll get the answers you need faster than ever.
Setting the Standard in Electrical
References for Over 35 Years
For over 35 years, Ugly's Electrical References has been the most instantly recognizable reference in the electrical and construction trades, providing customers with quick, accurate answers in a unique, one-volume "tool-box library" format. Ugly's Professional Reference series provides a complete line of pocket electrical references designed to increase productivity, keep jobs up-to-Code, and maintain workplace safety.
Ugly's Products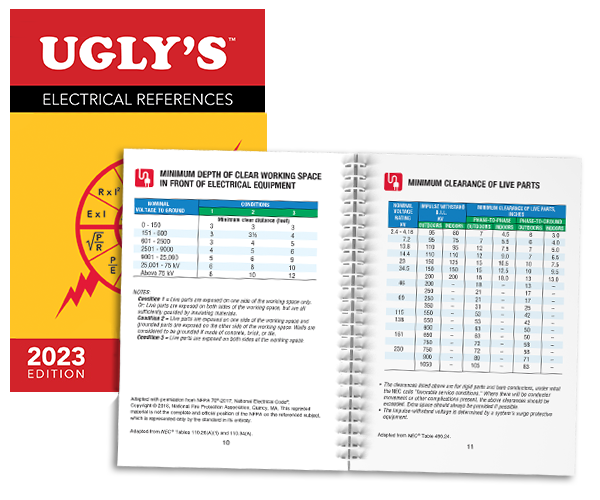 Quick, Accurate Answers
Ugly's Electrical References present a succinct portrait of the most pertinent information all electricians need at their fingertips in an easy-to-read and easy-to-access format.

Convenient Format
Ugly's pocket-size guides are designed to be used as an on-the-job reference. These handy guides contain critical electrical information so you can be sure your work is completed safely and correctly every time.

Current, Trusted Content
The Ugly's Professional Reference series is regularly updated to comply with the latest standards and regulations of the National Electrical Code® (NEC).