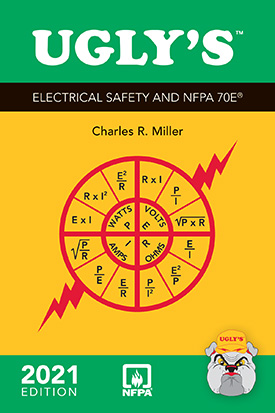 Ugly's Electrical Safety and NFPA 70E, 2021 Edition
ISBN-13: 978-1-284-22655-3 | Spiral | © 2021
$26.95 Buy Now
Ugly's Electrical Safety and NFPA 70E is the industry's leading reference for electrical safety. Based on the 2021 edition of NFPA 70E, this new edition summarizes current National Electrical Code® and OSHA regulations, and features scores of full-color photos and illustrations to help provide immediate access to needed information.
The 2021 edition of Ugly's Electrical Safety and NFPA 70E has been thoroughly updated to include:
The eight-step process for establishing and verifying an electrically safe work condition has been updated to include the 2021 edition revisions
Test meter safety ratings as well as the four categories for test instruments and equipment
Revised tables used to estimate likelihood of an arc-flash incident and to include new tasks added to the 2021 edition
Expanded content on the new specifications for arc-rated outerwear
New coverage of Article 360, Safety-Related Requirements for Capacitors

Designed for electricians, engineers, maintenance workers, inspectors, instructors, and apprentices, this invaluable pocket-sized resource provides fast access to the most referenced sections of NFPA 70E and related safety standards.